Heating programmer, Smart wifi contactor for cumulus and heating, Wifi programmer for heating and cumulus, 65A Max (15,000W); Programmer for Water heater programmer hot water tank

Tested and approved by us!

Do not tinker with your panel or electrical network, call a professional in your area for its connection!



This programmer can control everything electric, light, watering, cumulus heating, etc.



This WIFI programmer will allow you to save money on your electricity bill.
Indeed, the off-peak rate is generally scheduled from 9:30 pm to 5:30 am in the morning, your cumulus starts around 9:30 pm to heat for about 3 hours (for a capacity of 200 l), then around midnight it stops.
But, there is a but, from midnight to 5:30 your cumulus cools regularly This is why it starts again on average every hour for a period ranging from a quarter of an hour to 30 minutes to raise the temperature for which it was set (about 55 °).
During this period, your cumulus consumes a lot of electricity "unnecessarily"
To put it simply, why heat water from 9:30 p.m. to midnight, to let it cool for a few hours and then raise the temperature unnecessarily?
So we did the test of this programmer, programming a unique range from 2:30 to 5:30 every day (during off-peak hours), and the result on electricity consumption is more than bluffing, a saving of more than 3 KWh every day! (see photos taken by us below)
This programmer is compatible with Smartphones, Tuya Smart Life, Google Home, Amazon Alexa
You can do all the operations directly on your phone, no matter where you are, or even turn it off completely during a long holiday period and save money on your electricity bill.
As a reminder, it is forbidden to connect a high power cumulus to a plug, an electrical outlet or a daily programmer type of socket, indeed this type of connection carries enormous risks of fire due to overheating, it must be connected directly to the electrical panel on a module provided for this purpose (like the one presented). Attention as for all electrical connections, a bad tightening of the connection terminals, can trigger overheating at the connections (terminals and wire) and create a fire, call a professional for its assembly
Here is in more detail, the savings made on KWh, On January 11, 2021, we voluntarily programmed this module on the original programming is 21:30 5:30 read morning then, we changed it the following days for an active program only from 2:30 to 5:30 in the morning, the water is well at 55 ° and the economy is not negligible (3 KWh per day)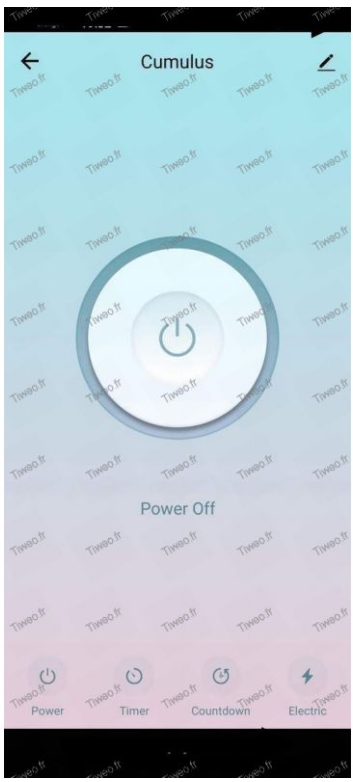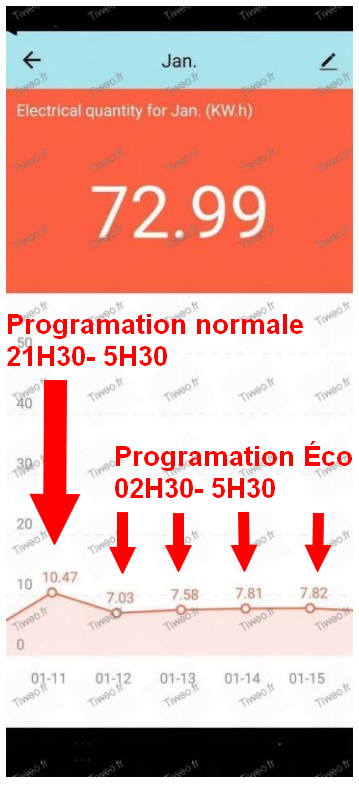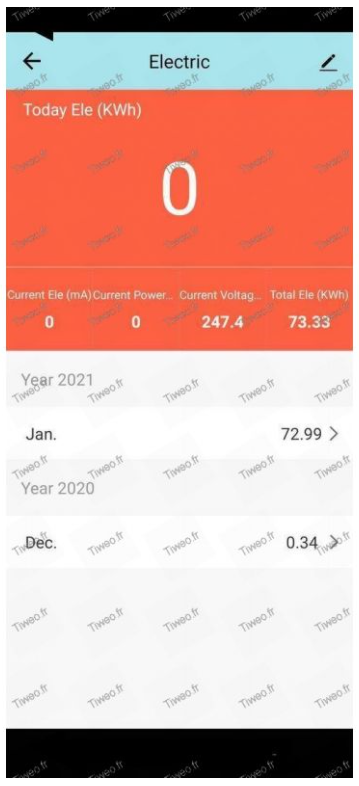 This module for electrical panel also allows you to measure the real-time consumption, power and voltage of the devices connected to it.
Manual in English (very easy to use)

Do not tinker with your panel or electrical network, call a professional in your area for its connection!